I am into yoga, eating well & travelling and I am mildly obsessed with English Bulldogs.
I forgive easily, cry during sad movies or commercials and am on the sensitive side.
I am a business woman by experience, a yoga instructor by trade & a wanderer at heart.
I come from a long line of stubborn and determined women and I never let challenges stand in my way.
I can change my own tires, oil & I know my way around a garage thanks to my Dad.
As a wanderer & travel junkie I have lived in 6 different cities over the past 17 years.
I pay great attention to detail and I am always learning about something new. I am calm under pressure and I am a really good speller.
I get excited easily and am super pumped to bring my vision to life. I just recently left my Toronto corporate life behind to come back home to my roots.
My passion for food and the small details will shine through in your experience at Vibe Eatery & Juice Co.
I know everyone leads busy lives and if I can help people eat well on the go, then I am doing what I set out to do.
eat well, feel well, live well
My food mantra is "Eat Well, Feel Well, Live Well". I also believe that educating people on the benefits of living a healthy lifestyle and being conscious of what they put in their bodies will help us all live healthier, happier and longer lives. I believe that the more local and fresh the food is that we consume the healthier it is and there is scientific evidence to back this up. Eating food that is free from preservatives & pesticides is also a choice that I make personally and want to provide to my clients.
finding a juice cleanse for you
If you're thinking of doing a juice cleanse but are unsure of what type of cleanse would best suit your needs, we're here for you.
There can be many benefits and reasons why you could want to do a juice cleanse. A cleanse can reset your digestive system, cleanse your system or even assist with weight management. You may even find that during a cleanse that you have more energy.
Like all medicine (natural or otherwise), you want to ensure you're taking things correctly. That's where we come in. During a consultation we'll discuss your needs, medications and goals and make sure that your regimen is customized to you.
Interested in learning more? Contact us.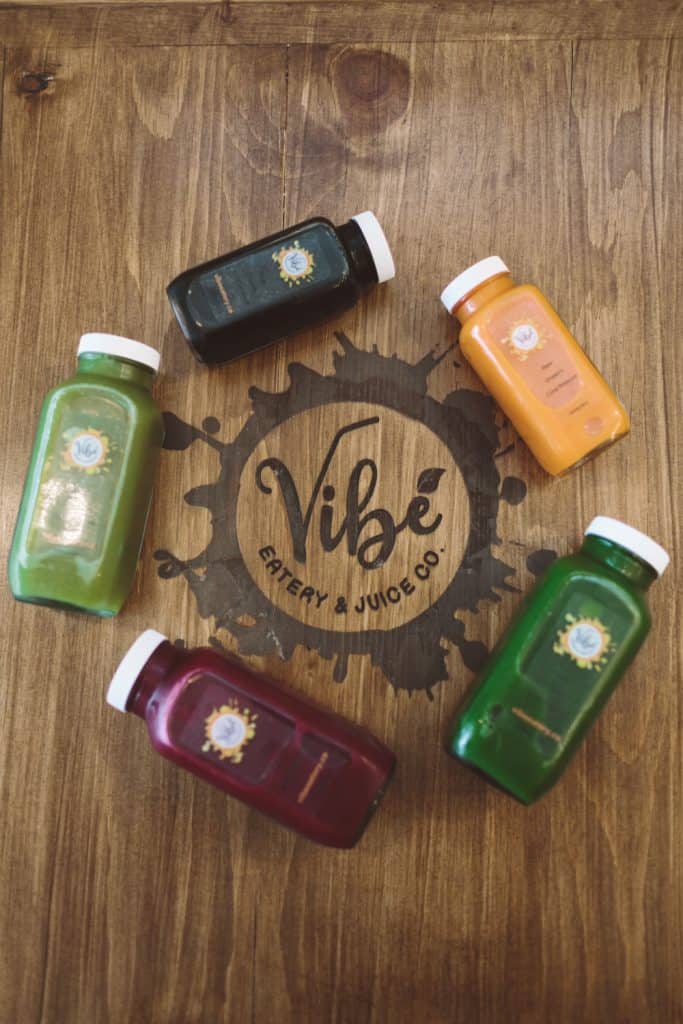 112 March Street
Sault Ste. Marie, ON
email us: hello@vibeeatery.ca
give us a call: 705-949-8423
Vibe Eatery & Juice Co. provides delicious, healthy, plant based dishes for breakfast, lunch & dinner, along with cold pressed juices, smoothies, coffee, tea & specialty hot beverages in a relaxing yet quick service environment. Located in the heart of downtown, we are the perfect location to stop in for a healthy, filling meal or a refreshing drink. We choose to provide our clients with Organic & Local produce whenever and wherever possible. 
Sign up for our Newsletter!